Westfront Nieuwpoort
 After a difficult period, we are happy to reopen from June 27, 2020.
Advance reservations are now required via this link.
Print your tickets or make sure you have them digitally (on your smartphone).
Also a small overview of some security measures that we introduce:
• Keep a distance of 1.5 meters at all times. When it is busy and you have to queue (at the counter, at the lift, at the toilets, etc.) we also ask you to keep sufficient distance;
• Follow the established route that goes through the permanent collection and the temporary exhibition;
• Bring your own face mask. When visiting the panorama, you will probably need to wear one.
• With an online reservation you pay your tickets in advance. Other on-site payments are preferably made contactless
• You cannot operate the interactive screens manually as part of the Covid-19 measures. You will therefore be loaned a touchscreen pen at the start of your visit;
• We provide hand gel in several places. Disinfect your hands regularly;
• We ensure your safety by regularly disinfecting the viewing cabinets, screens, door handles and lift knobs;
• Only one ladies' and one men's toilets will be available. We ensure that another toilet is opened regularly.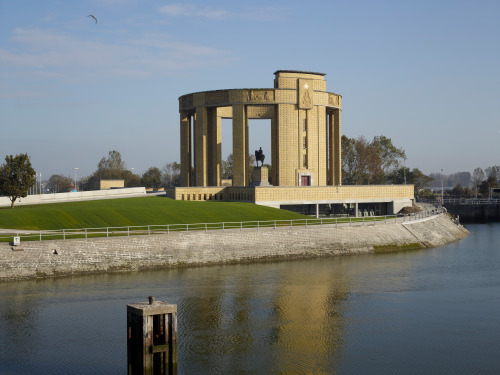 What does Nieuwpoort have in common with Namur, Brussels, Antwerp, Ghent, Kortrijk and Bruges? In all of these cities you can find a statue of Albert I, the Soldier King. These bronze riders mark the way the German army invaded Belgium in 1914, up until Nieuwpoort where they came to a grinding halt. This was achieved through the power of seawater and the smart coordination of the sluices and locks.
But water wasn't only an ally, it condemned Nieuwpoort to a crueller fate, the complete destruction of the city as first city at the front. A hundred years later the monument to King Albert I is a serene place in a beautiful landscape, surrounded by water. The ideal place to tell the story of the inundation. This happens in the hypermodern visitor centre 'Westfront Nieuwpoort' right under the 2500m² terrace of the monument, with a polyvalent inner circle and 3 exposition wings.
In an interactive computer game you get the chance to control the locks, just like in 1914. This all while overlooking the sluice complex as it exists nowadays. This and much more can be found in an open, light construction from where you shall get a large view over the past battlefield.